108th Group

NOTHERN Sign On Page click here I CORPS
Visit the World Top 100 Artillery WebSites
Vote for me in World Top 100 Artillery Websites
---
click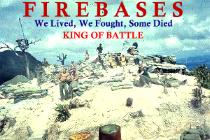 click
---
1) Charlie Boese
HHC, 108th Artillery Group, Dong Ha
Oct 67 - Nov 68
boesel180@aol.com

Looking for old friends
---
2) Chris Monteleon
2/94, 1/39, 108th Gp
2/94, AUG '69 - DEC '69: FO/FDO/XO
108th HHB, DEC '69 - JAN '71: AERIAL OBSERVER
1/39, JAN '71 - FEB '71: REMF
This website is a discovery! Will have to get a scanner...have pics some of you might like to see.
---
3) Parker W. Holden
HQ, 108th FA Gp., C Btry, 2/94th FA
Dec. '69-Dec. '70
PHolden@cfl.rr.com

I stumbled in here by accident and it's a little overwhelming. Haven't given much thought to Northern I Corps in the last 30 years.
---
4) Alex Brandau
HHB 108th Arty Gp
March 16, 1969 - march 15, 1970
afbiii@hotmail.com

I was a PLL clerk in Dong Ha; hated every minute of it, but loved some of the guys I served with. Anybody remember Porky's name? Now in Nashville, TN with 2 children. I remain extremely grateful to be alive and celebrate each morning with the one thing I wanted most but couldn't get for a year... an ice cold Coke in a glass glass with ice.
---
5) Sfc Charles L Rukavina USA, (RET)
HHB 108th Arty Gp
Aug 68-Aug 69
sfcruk1@bellsouth.net

I have finally found my unit and my comrades at arms.
---
6) Steve Hyland
HHB 108th arty
10-67 to 9-68
steve.hyland@hydro.com

looking for old friends I served with in dong ha.
---
7) Delbert Chafey
HHB 108th Arty
10-67 to 4-68
delbert.chafey@gm.com

I served with HHB 108th Arty from 5/67 (Fort Riley, Kansas when it
was reactivated) to 4/68 when I was rotated to Pleiku, 6/29th Arty.
My time in country with the 108th was from 10/67 to 4/68. This was the only
arty outfit I knew of that had more officers than enlisted personnel. We
directed fire for I Corps.
---
8) John T. Jamieson
HHB 108 Artillery group
1967-1968
jamieson5@adelphia.net

Reaching out to all original members of HHB leaving from Ft Riley KS arriving Dong Ha
---
9) Stephen A. Tyler
Feb, 1969 S5, 108th Artillery Group
Mar, 1969 Motor Officer, 2/94 FA
Apr, 1969 Cdr, HHB, 2/94 FA
Aug, 1069 FDO, 2/94 FA
Oct, 1969 S2, 2/94 FA
Feb - Dec 1969
styler1@adelphia.net

COL, FA, Retired
---
10) Andy Futa
108th arty gp hdqts/Dong Ha
mar 68 to mar 69
afuta@tampabay.rr.com

I was the chaplains asst that came out to your batteries for about 6 mo's, then after I got fired I was you mail man!!!
---
11) John S. Scott

HHB 108th Arty. Aid station
Jan-Dec 1970
johnscot@aol.com
I was a medic with the 108th. at Dong Ha and Phu Bai, plus 6 weeks tdy at the 18th Surg. in Quang Tri. I remember that the VD rate from Bangkok was 100%, even the officers. Loved giving that penicillin.
---
12) H CLYDE LUCERO

B BTRY 108GROUP GUN 3/AMMO
JUNE 1970-MAY 1971
RCD0110@MSN.COM
ITS BEEN SO LONG I CAN'T REMMEMBER HARDLY ANY NAMES,PARSON,PORKEY,PINEAPPLE. I HAVE PIC'S, BUT NO NAMES.
---
13) Richard Donahue
108th Artillery Group (Supply Sgt)
1966-1968
richarddonahuesr@aol.com
I came with the 108th Artillery Group from Fort Filey Kansas, bye ship, we had a lot of great times, and a lot of bad times, but we were family in all ways.
---
14) Bruce Paxton
HHB 108th avn det.
11/4/70-11/4/71
sneakywhite@yahoo.com
Crew chief/door gunner out of 108th avn. Dong Ha and Phu Bi. Flew air support for all FSB's north of Da Nang to Laos (Lam Sam 719) and Khe San.
---
15) Bruce Jackson
HHB 108th Arty Grp. (Unit Armorer)
66-68
brucejackson39@msn.com
My thanks to Jack Jamieson for helping me find some of the guys in our old unit. Looking forward to hearing from one and all.
---
.
To Combined Arty Units I Corps Viet Nam
Posted after 5/5