1st Battalion 321st Artillery 101st Airborne
---
click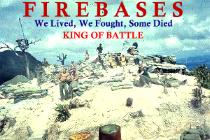 click
---
1) Roger Ables Roger's Poems
HHB 1/321, 101st Abn
Apr '69- Apr '70
rables@sgtc.com

Great Site. I am corresponding with a lady who is looking for anyone who served with the 320th between Nov '70-Nov '71 who might have known her deceased brother Greg. If you were with this battalion then please contact me. Thanks and I am glad we made it home. My best to all.
I was with the 321st Arty, 101st Airborne (Airmobile). By the way, the 321st was a glider Battalion in WWII. I started off in April of 1969 at FSB Whip which was located in the southern A Shau Valley. Moved around Thua Thien Province a little, FSB's Birmingham and Bastogne, but spent most of my time at LZ Sally. I was in Battalion FDC.
---
2) George Whitehouse
B 1/321st Srty
10/71-2/72
gawhitehouse@prodigy.net
---
3) Dan Painter
A ,1/321st,101st ,airmobile
9/69-11/70
dpainter@conpoint.comm
---
4) Leonard C. Wilson
1/321 arty opcon to 3rd ARVN Regt.
march69-march70
wilsonompha@aol.com

I also worked with C 1/502 grunts I remember R Ables at hhb fdc my call sign was 21 uniform delta. My initials are Lima Charley Whiskey Welcome Home!!
---
5) Eddie Lewin
C, 1/321& C, HHQ 2/320 FA
12/67-12-68
eelyx@aol.com

Welcome home to all Nam Bro's. Find your buddies, and lets get them all back inside the wire. Xin Loi, charlie.....!
---
6) William Perry

C/1/ 321,
B/2/320
1/67 to 12/ 68
Refugee@comcast.net
C Btry from 1/67 to 5/68, to 2/320 5/68 to 12/68
---
7) Stan Collins

B- Battery, 1st of the 321st Artillery, 101 ABN
Feburay 1969 - April 1970
astrostans@yahoo.com
I was first assigned to Firebase T-bone 105s before the batteries were sent to Firebase Whip in the southern A Shau valley. We remained there from the time Whip was cut in to the time it was dismantled. A lot of action took place during that period. We were then transferred to Firebase Roy and in about 2 more months I ended up at division headquarters at Camp Eagle.
---
8) Leonard C. Wilson

HHB 1/321st Arty.
March 69 - March 70
wilsonompha@aol.com

opcon to C 1/502 inf. then to 3rd ARVN Regt. I am not afraid to die but i am tired of not living. PTSD hypertension agoraphobia 17 day stay at Seattle VA Hospital PTSD ward is a good thing to do. I highly recommend it.
---
To Combined Arty Units I Corps Viet Nam
Posted after 5/5
SIGN IN: click here click here