4th Battalion 12th Marines
---
click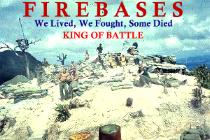 click
---
1) Jerry G
K Battery, 4th Bn, 12th Marines
7/68-3/69
gman4600@aol.com

M109's Camp Caroll, Alpha 3, Rockpile, Charlie 2, etc. All the usual places. K/4/12 has a web site http://users.aol.com/gman755/k412/k412.html All welcome. Keep your powder dry and Semper Fi..
---
2) Jerry West
K-4-12 & E-2-12, USMC
Dec. 66 to July 67
record@island.net

FIRE BASE NOOTKA http://www.island.net/~record/menus/rvn.html
Served in comm section with K-4-12 in DaNang in 65-66 and as an FO with E-2-12 at Camp Carrol, Phu Bai, Camp Evans and Cam Lo in 1966-67. Later was an organizer in the GI Anti-War movement in 1970 while stationed at MCAS Iwakuni.
---
3) Gary Landmark
L 4/12
May 67- Sept. 69
jlandmark@willmar.com
---
4) Duane Wacha

Duane's Pics
4th Bn/12th Marines FDC
June 67 to August 69
dcwacha@mchsi.com

Phu Bai, Camp Carroll,Rockpile Like to hear from you guys. Shot over!!
---
5) Mike Irwin (Surf)
HQ 4/12 and K/4/12 FDC
October 1965 to April 1967
irwinsails@aol.com

1964 MCRD San Diego w/Beaver Platoon (356)Oregon's State animal. Good name huh. Surfer wannabe w/Rick Redman out of Long Island. Glenn Steichen WA State. 1965 RVN w/Dick Shore, Florida, Sam McClelland New Orleans and Toot from Boston. Home April 1967 Any Brother out there?
---
6) Cpl Steve Starkovich
bravo 1bn 13 marines, k-4-12-marines
may 1966 to june 1967
stevefromgalluo@webtv.net

looking for some of the guys that served with me
---
7) Sgt Robert E. Dunbar
Kilo Btry 4Th Bnth 12Th Marines
Sept 67-Oct-68
Ahl1121@Aol.Com
Looking for some old buddies from Camp JJ. Caroll from gun 4#Mybe they will remember me I had my father come up from Tuy-Ho he was in the AirForce.Served on 155 self propell.Looking to hear from Paul or Scotte.Thans for the great web site and Welcome Home.
---
8) Benny F. Carpenter

Lima 4/12 FDC ops chief
aug68 - sept69
thegunney1@sbcglobal.net
looking for pictures of capt smith, lt horn, capt adams ssgt mose hooks or any pictures that were taken at the rockpile or C-2. Happy to pay for any pictures out there. Gysgt carpenter U.S.M.C retired
---
9) Stephen Ashworth
HQ. 4Btn. 12th Reg.
Feb.68 to Dec.68
sdashworth@stjohncable.com
Dong Ha, Camp Carroll
---
10) S/Sgt. Don Embleton

K Battery, 4th Bn, 12th Marines, Gun-1 Gun-5
Sept.12,1967 to Dec.4, 68
northstarhunter@infionline.net
Capt. Sullivan's Shooting Shamrocks, M109sp Camp JJ Carroll, C-1,C-2,RockPile,Con Thien,Delta-5 Khe Sanh with 13th Marines Was on Gun 5 and latter Gun 0ne our loan Army M109sp when the NVA 75mm howt. hit our Ammo Bunker with 2 men inside. Also with Doc. Wean at Rockpile. Received a Combat Promotion on Nov.10 the Marine Corps. Birthday, I think we were at C-1 or Con Thien. Rotated Back to States On Dec.4 Im thinking of a Veterans Trip this Summer back to Vietnam for some closure. Like to hear from my Brothers out There. Semper Fi.
---
11) Sgt. Larry Wilson UCMC

Kilo Btry. 4th Bn. 12th Marines, 9th MAB, 3rd Marine Division
February 68 - March 1969
USMCKilo412@AOL.COM
I went to 1/13 at Khe Sanh when I first got in country. Shortly thereafter I went to K4/12 while it was still under 9th MAB and opcon to the Thirteenth Marines We were a bastard unit just like 2/4. I worked on the guns, FDC, XO pit, and as F.O. on convoys. I was with Kilo at Camp Carroll, Con-Thien, Rockpile, A-3, Mi-Loc, C-2, and Dong Ha. I am still looking for lost brothers! Alot of Kilo Marines are back together and having great reunions. Semper Fi.
---
12) Pat Hixon

k/4/12
aug - oct 1969
pathixon@comcast.net

i was at the rockpile on gun#1 till 3rd mar div was leaving vn the last time for okinowa. i finished my one year tour with a 105mm battery, h/3/11. rotated mid aug '70. would like to hear from anyone who wants to talk to me.
---
To Combined Arty Units I Corps Viet Nam
Posted after 5/5
SIGN IN: click here click here