6th Battalion 33rd Artillery
NOTHERN Sign On Page click here I CORPS
---
click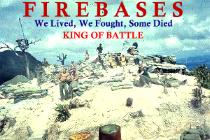 click
---
---
October 2003 Newsletter click to download ZIP file
---
1) James Slate
B And Svc Btry(s) 6th Bnn 33rd Arty, 108th Gp
Feb 68 -Feb 69
jssthor@bigfoot.com
---
2) Clyde Lewandowski Easter '68
HHB 6/33 Arty
Feb 68 - Aug 68
clew4@midco.net


Shipped over on the USS Upshure with the 6/33 Btn. Worked out of LZ Sharon until I went on sick call with a hernia in July or August 68.
I would like to ask that you link the website for the Vinh Son Orphanage in Kontum, Vietnam to your site. I visited there this February and the kids can really use any help that we can roust up for them.
It can be found at www.FriendsofVSO.org
Thanks in advance,
Clyde Lewandowski
---
3) Oliver Bishop
obishop@rcn.com
HHB 1st Bn 40th Arty
March 66 to Sept 67
I joined the unit when it formed at Ft. Sill and rode the boat to RVN. I had many fun filled days surveying down Highway Nine and filling countless sandbags.
HHB 6th Bn 33rdArty
Jan 68 to Sept 68
I joined the unit at Ft Carson and rode the boat to RVN. Spent my tour in the survey section at LZ Sharon.
---
4) Herman Mellott any one who served with my dad
6th -33rd - Arty 2/94th
jan 1968 to jan1969
mark_a_mellott@yahoo.com


My dad left ft sill in route to rvn with the 6/33 was in country from jan 1968 with the 6/33 until april 68 when he trans. to the 2/94th please contact him at herman l. mellott 44826 st.rt. Beallsville, OH 43716
---
5) Martin J Lipp
Btry A 6th Bat 33rd Arty
Feb 69 feb 70
m.j.lipp@worldnet.att.net

Gunner, base gun looking for fading past. On bord at LZ jeanni, LZ Tebonne, LZ Birmingham,LZ Thor,LZ Los Banos Qua Viet, ??C?, there I go! Fadding!
---
6) Daniel Vestal
6th 33rd
Mar. 69 - Mar 70
I have many pictures of my tour in Vietman. tour dates Mar 1969 to Mar 1970. first assigned to Phu Bi the Dong Ha the in the field to LZ Cates, Stud, Vandergriff and somewhere else I forgot the name of. I was a SP4 on Gun 6 of "C" battery. I believe the name on one other person was Sam Salamone.
---
7) Clarence Hill
'A' BTRY, 6TH BN, 33RD ARTY
3/68 - 3/69
chill@ovec.com

i was nickname tall man by robert mendosa (street cleaner). would like to hear from anyone that was in 'A' battery.
---
8) H. B. Riggs
c btry 6Bn 33 Arty
Jan68 Jan 20 69
skuger@aol.com

was the first worker as the battalion was formed in Fort Carson took the SS Upshur over and was traveling from LZ to LZ all year what a great unit!
---
9) SP- 5 Paul R. Munoz
6th Bat. 33rd Artillery
April 1968-August 1968
pakgib@aol.com
Looking for guys I served with in Vietman '68.
---
10) "Wrighty" Gayle Wright
B Btry 6/33rd Atry
July 69 to oct 69

Tecopaman@yahoo.com
Signed on in phu bai and was sent to Btry A, on firebase Panther two. We moved later out past bastogne to a firebase in the A-sha- valley. My sergeant was called "dickhead" Sgt. barrett, everyone loved him. Looking!!!
---
11) Robert Leonardis
HHB 6-33 arty Bn FDC, 8/4
Sept.67 to June 68
r_leonardis@hotmail.com

Went over on Upshur in feb.68.Was at Lz Sharon til June 68.Was there when guys in my section were hit by mortars and evacuated don't know how they faired.
---
12) Andy Coates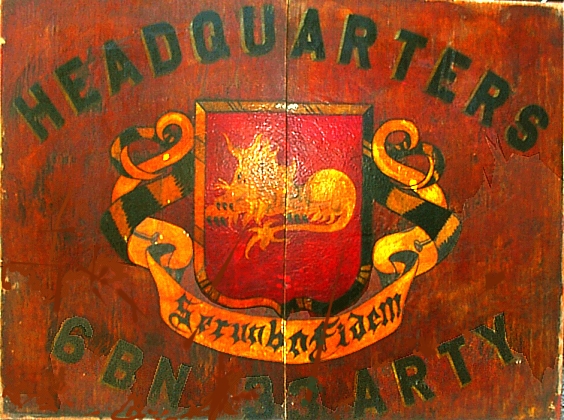 Andy's Pics
HHB 6-33 Arty
Feb. 69 - Feb. 70
I received the HHB 6-33 sign in the mail several months after I was home.
---
13) Robert D. Parker
Hq & A btry 33 bn arty
Jan 68 -Jan 69
popaandpat@webtv.net
Looking toward 04 reunion.
Served as A btry commander 33 arty
Mar 68 -Jul 68
---
14) Willard Alleckson
A Btry 6/33
July 69-October 70
will.alleckson@verizon.net
Started at Los banos w/ Marty, Reidy, Corbin, Mackey, Jack A., Baby Greyhound, went to Cua viet, Birmingham, A-4 and then to Quang Tri for las 7 months of Tour. Hey Marty how u doin?
---
15) Michael R. Murdock
HHB/6th 33rd/SURVEY
1 FEB 68 - 27 JAN 69
mrmurdock@dacafe.com

Straight out of ASSC class 30-67 at Ft. Sill, OK, a lot of the class members joined others in the Activated 6th BN 33rd FIELD ARTILLERY at Fort Carson, CO. As a unit we left Fort Carson in Jan. 1968 to board the USS Upshur and arrive at Da Nang with all of our equipment in Saigon. From Da Nang we moved north to LZ Sharon outside of Quang Tri. With LZ Sharon as our base camp the survey section did our job around a lot of fire bases from Da Nang north the DMZ. Sept.? 1968 HHB moved to Phu Bai where I ran the NCO club. Welcome home to all. REMEMBER ALL THAT GAVE THEIR ALL.
---
16) WILLIAM A MARX

A BAT 6TH OF33RD ARTILLERY
9/68---8/69
bmarx@fmtoyota.com
I WAS A FIELD COOK ON SGT ED FIRST AND LAST FOR SGT ROBERSON. REMEMBER MAP IN AMMO, MARTY AND NICK IN COMMO, CHIEF OF SMOKE SGT ROBERTSON. ANYBODY OUT THERE PLEASE E-MAIL ME.
---
17) William P. Bourke ( Bill )

6/33rd- B Battery , Field Cook
6 / 68 to 4 / 69
bill-arline@msn.com
I was with 108th flash unit at Dong Ha.3/68 transferd to 6/33rd, B Battery at LZ Stud.At Basstone I got my nick name Jim Bowie!! I was a Sp/4 Field Cook.
---
18) Lee Burnside


A Btry,HHB, 6/33 FA
7/68-7/69
lburnside@neo.rr.com

13 months mostly good some bad. Made it home with lots of memories. Welcome home all you guys.
---
19) Peter R. Sabel

A Btry, 6th Bn, 33rd Arty
July 26, 1968 to July 26, 1969
PeteLeads@aol.com
I never realized that there was this site, just found it and will explore. I was with the 5th Infantry till late August, '68 up in the Quang Tri area LZ Pedro and Charlie II up by the DMZ. We were on 155 SP, but was glad to get transferred to A Btry, 6th BN 33rd Arty, they were in Phu Bai when I joined them and saw much of the LZ's at that time. Have pictures too.
---
20) Dale J. Thies

HHB 6th Bn, 33rd Arty
Mar 69-Feb70
dthies@deanmch.com
Medical Section Sgt. 91B40
---
21) Robert Eunson

A battery 6/33 arty
feb 68-feb 69
ozarkbucky@yahoo.com
I was a sgt in ssg davis' gun crew..left after los banos.
22) Danny R. Smith

A Btry 6/33 FA
Jan 68 to Jan 69
NEED MAIL ADDRESS
---
23) Gary McCreary

b brty 6 th btn 33 rd arty
feb 68---- oct 69
garyndebmccreary@sbcglobal.net
im trying to find some of the unit from nam REMEMBER GETTING HIT AT LZ STUD W/ MOARTERS AT LUNCH?
---
24) William Jones

B btry 6th Bn,33rd Arty, gun 3
Feb68 - Feb 69
jb1970@yahoo.com
signed in at Utah beach(wunder)later.We were base piece for most of my tour under ssgt Jones & sgt Barrett.We were at Stud,Sally,Bastonge,PantherI,II & III,Evans,kicked out of Carol,Marines didn't like us.Still wonder if every one came home.
---
To Combined Arty Units I Corps Viet Nam
Posted after 5/5
SIGN IN: click here click here