108th Group
LINEAGE AND HONORS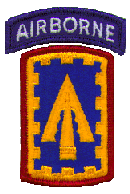 The 108th Air Defense Artillery Brigade traces its lineage from the 514th Coast Artillery Regiment (Antiaircraft), which was formed in October 1923 at Schenectady, New York.
In January 1943, it was reorganized as the 108th Coast Artillery Group (Antiaircraft). In May 1943 it was again reorganized, this time as the 108th Antiaircraft Artillery Group.
During World War II, the group was deployed to France, landing at Utah Beach and participating
in the European Theater of Operations.
The 108th Antiaircraft Artillery Group provided defense of the city and harbor at Cherbourg and for eleven months, defended forward airfields and the French cities of Reims and Rouen.
World War II campaign participations include Normandy, Northern France, Rhineland, and Central
Europe.
The Group was inactivated in December 1945 in Germany.

In September 1956, the Group was reactivated at Los Angles, California, and in March 1958, redesignated the 108th Artillery Group (Air Defense). In April 1960, the group was inactivated at Fort McArthur, California.

In May 1967, the group was reactivated at Fort Riley, Kansas as the 108th Artillery Group and deployed to the Republic of Vietnam in October 1967.
The group participated in every major operation conducted in Northern I Corps from that time and received credit for participation in eleven different campaigns while in Vietnam.
The group was decorated with the Vietnam Cross of Gallantry with Palm.
The organizational colors departed Vietnam on 22 November 1971 for Fort Lewis, Washington, where the group was again inactivated.

On 26 August 1974, the group was reactivated at Kapun Barracks, Kaiserslautern, Federal Republic of Germany, as the 108th Air Defense Artillery Group, the only Chaparral/Vulcan Group in the US Army. In September 1975, the group moved from Kapun Barracks to Kleber Kaserne.

On 1 October 1982, redesignated the 108th Air Defense Artillery Brigade. On 15 April 1992, the Brigade was moved to Fort Polk, Louisiana.

On 15 August 1996, the Brigade was moved to its present home at Fort Bliss, Texas.

DECORATIONS - Vietnamese Cross of Gallantry with Palm, Streamer Embroidered Vietnam 1971

CAMPAIGN PARTICIPATION CREDIT - FOR WORLD WAR II - NORMANDY, NORTHERN FRANCE, RHINELAND, AND CENTRAL EUROPE.
FOR VIETNAM - COUNTEROFFENSIVE PHASES III, IV, V, VI, VII, TET, TET 69,
SANCTUARY COUNTEROFFENSIVE, SUMMER-FALL 1969, WINTER-SPRING 1970,
AND THE CONSOLIDATION.