94th FIELD ARTILLERY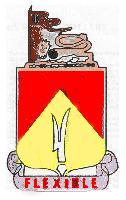 DEPARTMENT OF THE ARMY

Lineage and Honors
Constituted 1 October 1933 in the Regular Army as the 94th Field Artillery

Redesignated 1 January 1942 as the 94th Armored Field Artillery Battalion

Assigned 6 January 1942 to the 4th Armored Division and activated at Pine Camp, New York

Converted and redesignated 1 May 1946 as the 94th Constabulary Squadron; concurrently relieved
from assignment to the 4th Armored Division and assigned to the 11th Constabulary Regiment

Converted and redesignated 6 January 1948 as the 94th Field Artillery Battalion and relieved from
assignment to the 11th Constabulary Regiment

Inactivated 20 May 1949 in Germany; concurrently redesignated as the 94th Armored Field Artillery
Battalion and assigned to the 4th Armored Division

Activated 15 June 1954 at Fort Hood, Texas

Relieved 1 April 1957 from assignment to the 4th Armored Division; concurrently reorganized and
redesignated as the 94th Artillery, a parent regiment under the Combat Arms Regimental System

Redesignated 1 September 1971 as the 94th Field Artillery

Withdrawn 16 November 1986 from the Combat Arms Regimental System and reorganized under the
United States Army Regimental System

CAMPAIGN PARTICIPATION CREDIT

World War II
Normandy
Northern France
Rhineland
Ardennes-Alsace
Central Europe

Vietnam
Counteroffensive, Phase II
Counteroffensive, Phase III
Tet Counteroffensive
Counteroffensive, Phase IV
Counteroffensive, Phase V
Counteroffensive, Phase VI
Tet 69/Counteroffensive
Summer-Fall 1969
Winter-Spring 1970
Sanctuary Counteroffensive
Counteroffensive, Phase VII
Consolidation I
Consolidation II
Cease-Fire

Southwest Asia
Defense of Saudi Arabia
Liberation and Defense of Kuwait

DECORATIONS

Presidential Unit Citation (Army), Streamer embroidered ARDENNES

Presidential Unit Citation (Navy), Streamer embroidered VIETNAM 1966-1967

Meritorious Unit Commendation (Army), Streamer embroidered SOUTHWEST ASIA

French Croix de Guerre with Palm, World War II, Streamer embroidered NORMANDY

French Croix de Guerre with Palm, World War II, Streamer embroidered MOSELLE RIVER

French Croix de Guerre, World War II, Fourragere
"Vietnam Order of Battle"
by Shelby Stanton.
2d Battalion, 94th Artillery
(175mm Gun, Self-Propelled)
(175mm Gun/8-inch Howitzer)
Arrived Vietnam 18 October 1966
Departed Vietnam 21 April 1972
Previous Station Fort Sill
Authorized Strength 565
The 2d Battalion of the 94th Artillery was originally a self-propelled M107
175mm gun battalion located at Dong Ha. In early 1969 it was converted to
the dual 8-inch self propelled M110 howitzer and 175mm self-propelled gun
configuration. Under I Field Force, Vietnam it was transferred to the
108th Artillery Group on 31 March 1968 and was removed from operational
control of the III Marine Amphibious Force. Later it was moved to Quang
Tri, to Camp Evans on 28 November 1969 and then back to Dong Ha in 1970.
In 1971 the battalion was transferred to Da Nang and XXIV Corps Artillery.
Later that year it was sent to Phu Bai where it became closely connected
with supporting the 101st Airborne Division (Airmobile).