8th Battalion 4th Artillery
Sister Sitehttp://8th-4th-arty.com
NOTHERN Sign On Page click here I CORPS
Visit the World Top 100 Artillery WebSites
Vote for me in World Top 100 Artillery Websites
---
BRANSON MISSOURI
MEMORIAL DAY WEEKEND
May 25 - 27, 2002
SAt - Mon
Northern I Corps Vets, Family and Friends Welcome
All Vets, From All The Arty Units Posted, From All Eras Are Invited
---
click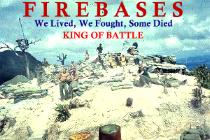 click
---
---

1) Robert King
B-Battery 8/4 Artillery 108 Artillery Gp
Jan. 69-Dec.-69
I served at C-1 Ca Lu and Dong Ha in 69 I am looking for other members of that served with me I contacted David "Mississippi" Wooten a few years ago so would like to contact a few more I cant remember the first names just last names and nick names. Bones from Brocton, MA Hippie?? Goad from TX. Cant remember the cook but we called him Pops he was KIA by incoming at C-1. I was called Chief or Crazy Indian because I am Indian and I was Crazy back then but have mellowed out some in the last 30 yrs.
I was with B-Battery 8/4 in 69. Was a RTO for the FO in April of 69 attached to an ARVN Unit 2/7 Cav was hit at Lang Vi on 25 of April. I have an after action report on this from the Archives of the Fifth Mech's 1/77 Armor it states that a mortar landed near the FDC Track of C/1-40 killing the battery XO and wounding every man in the FDC. I need any information that anyone can give me. Thank You and Welcome Home.
---
2) Mike Schwertfeger
C Battery 8/4 Arty
October 1969 to November 1970
Worked in FDC at Alpha-4, I would like to hear from some old friends.
---
3) Fred B. James
HHB/A Btry, 8th Bn, 4th Arty
March '69 to March '70
fjames@satx.rr.com


I've been looking for this site for a long time. I served at HHB in Dong Ha (Battalion FDC) from March '69 to about August '69. Transferred to A Battery FDC (175 MM-SP) at Rockpile for about a month. A Battery then moved to Camp Carroll for the balance of my tour. Departed March 1970. While at Battalion, I sometimes checked data with your unit at A-4 (Con Thien?). There were 2 main FDC guys for C Battery at Battalion - one of them was Fred Wright. I always admired the accuracy you could get with the 8" guns. Pretty amazing. I made a short visit to your base to deliver some stuff. Way too spooky a place for me.

Let me know if any of this rings any bells.

Sincerely, Sp-4 Fred B. James (13E20) San Antonio, Texas
---

4) Charles G. White
8th Bn 4th Arty
1968
white@cw.wtxcoxmail.com


I and others are trying to compile a list of those who served in the 8th Bn 4th Arty at anytime in
Vietnam. I spent the calendar year 1968 with the 8th 4th Arty. My first 4 months in 1968 were at
Dong Ha. My first title was Batallion Assistant Commo. Officer, and whatever other junk assignment deserving of a new Lt. in country. In late April I was assigned to B Battery of the 8th 4th, at Hill 10, Hill 65, and An Hoa, which was West of Danang; then in my last week I went back to Dong Ha where I was processed to return to the states.

We are looking for all who served with the 8/4th Arty. For information check
http://groups.yahoo.com/group/8-4-arty
AND
http://www.amarillo2000.com/audacia
---
5) CHARLES ADAMS
Old News Articles - Firebases
C Btry, 2nd Bn 94th Arty, 8/4 (A-4  CON THIEN) Charles Pics
April 1971 - February 1972 Personal Account
charles.adams@suntrust.com Article Atlanta Journal July 8, 1971

MY EXPERIENCES IN VIETNAM ARE FADING SINCE IT'S BEEN ALMOST 30 YRS. I WAS ASSIGNED TO "CHARLIE" BATTARY 8TH BN 4TH ARTY ON THE DMZ AT FIREBASE ALPHA 4 (CON THIEN). WAS IN GUN SECTION 2 DURING SUMMER OF 1971. I HAVE WRITTEN A JOURNAL ABOUT SOME OF MY EXPERIANCES THAT WE ENDURED ON A-4 THAT I THINK YOU WILL FIND INTERESTING. I HOPE TO HAVE IT, PICs AND OUR UNIT PATCHES POSTED ON THIS SITE SOON. WE WERE THE LAST AMERICAN UNIT TO OCCUPY CON THIEN. WE TURNED THE LIGHTS OUT AT A-4 AND THEN CONVOYED TO CHARLIE 1 FROM WHERE WE WERE USED DURING OPERATION LAM SON 719. THE 8/4 STOOD DOWN ON OCT 13, 1971 AND WE JUST CHANGED PATCHES TO THE 2ND BN 94TH ARTY. I WAS TRANSFERED TO THE SERVICE BATTARY AND WE HAULED AMMO TO ALL THE GUN BATTARIES LOCATED ON THE DMZ FOR REST OF MY TOUR.

I HOPE ALL YOU "REDLEGS" ARE DOING WELL. WE ARE CURRENTLY COMPILING AN E-MAIL LIST OF FORMER MEMBERS OF THE 8/4 AND 2/94. SEE CHARLES WHITE'S ENTRY. THE LIST IS OVER 200 VETS. I HAVE SPOKEN TO A NUMBER OF OUR BROTHERS, WHO LIKE US SURVIVED THAT DREDFUL PLACE - VIETNAM. I AM SORRY LT TOM BOGGS THAT FOR YEARS I THROUGHT IT WAS YOU THAT DIDN'T MAKE IT OFF ALPHA 4. I WAS CONFUSING YOU WITH LT BINKLEY.PLEASE ACCEPT MY APOLOGY.

WE NEED TO CONTINUE OUR QUEST TO DOCUMENT OUR TIMES ON THE "Z"! TIME IS RUNNING OUT!

LATER GUYS!

WELCOME HOME!
---
6) John McComb
C Battery 8/4 Artillery (Fire Direction Center)
mccombpa@aol.com


If you want to be added to our 8/4 artillery e-mail list, send a blank message to: 8-4-arty-subscribe@eGroups.com.
---
7) Lavon Gordon Lilleux
C/8/4/1
Organization: 7/67-5/68
revelation@centurytel.net

trying to get as much information as possible about the guys I served with. The unit was activated at Ft. Sill in '67,trained together and went to Danang by troop ship, USS Upshur, then on to Dong Ha and fire bases north; I left the unit while in the Ashua Valley and was transferred to the 6/32 8"unit.
---
8) Marty Hauser
B Btry  8/4 Maint.
Organization: March 70- jan 71
martynam70@earthlink.net

Just trying to find anyone that was in B Btry in 70
---
9) Robert Matlock
C Btry 2/94 Arty 175 MM Gun 4
6-67 thru 4-68 trans to 8/4 Arty 175 Dong Ha
MATLORC@starent.com

I was with the 2/94th arty in 67-68. We were at Dong Ha, Gio Linn, Camp Carroll, Rock Pile, and a place that we call The Graveyard; (a Vietnamese graveyard between Dong Ha and Gio Linn). I am really glad to have found this sight. I have looked for something on the 94 th for a long time. I would really like to hear from anyone the battery, or the battalion.
---
10) Larry A. Nelson
A Battery, 8/4 Guns, FDC, Ammo Chief
1967-68
fift1frd@cs.com

See you all in July.
I,m looking for a Alexander Henderson, he was from Tenn. I'm not sure if he was in the 1/40th. or the 1/44th. He and I came to Vietnam on the buddy system from Germany. I went to the 8/4 and he went to ??, If anyone know's him let me no. Thanks,
larry nelson A btry. 8th.Bn.4th.Arty. 67-68
---
11) Buzz (Mac) Mcaninch
Svc Btry, Personnel Sect, 8th/4th
March67 -March68
bmcaninch45@prodigy.net

Been looking for something like this for a long time. Thanks for putting it together.
---
12) Ken Zahn (Doc HONDO)
8/4 Arty. H.Q. Dong Ha & Con Thien A-4
Nov.70 - Oct.71
loonnest@cheqnet.net

Drove (Lucille) The aid station ambulance. Can anyone tell me who named her Lucille?
---
13) Steve Morris
C Btry, 8/4
Jan 71-Nov 71
smorrispbs@aol.com
---
14) J. Scott Stevenson
B Battery 8/4th Artillery Gun #1
Dec68-May69
scottsusan@cyberback.com


Anybody out there from Sergeant Kuykendall's gun crew? I have been thinking about all of you often, and want to hear from you. Thomas Pratt, Sergeant Willis (the backup singer) and espically Bobby Jones, the only person I outranked cause he kept getting busted...Bobby kept me alive! Kuykendall called me the "Hippie" because of my wire rimmed glasses. Anybody remember Tet at An Hoa?
---
15) Don Gazzaway
C Battery 8/4 th. Artillery Gun One
Dec 69 - Jan 71
BigD@i1.net

Assigned To Con Thien(A-4)My Whole Tour. Looking To Hear From Anyone From Gun One Who Was There When I Was.
---
16) Chris Cunningham
8/4th Aug 71-Oct 71 2/94th Oct 71 - Feb 72
CA_Cunningham@Bigfoot.Com

I don't remember the battery number. I was on FSB Bastone when we were attached to the 101.
---
17) Paul Lanza aka "South Philly"
B Btry, 8th Bn, 4th Arty (Gun 2, "Birth Control"
16Jun70 to 23May71
pyramidgreatdanes@erols.com

Looking to conect with anyone from the Battery. I was on the guns for about 7 months, then went to FDC when we did the LamSon 719 gig. Welcome home brothers!!!!!
---
18) John E. Stonerock
8/4 C Btry FDO , HHQ MRE Off & Motor Off
69-70
jestonerock@msn.com

I served with some of the best men & kids and I say kids because the boys they sent over to Nam were very very young but they did a mans job. They did what they were told some time not so happy about it but did the job. I can understand why some of them for got about their tour for all those years. But this net has bought back some of our friends and we needed that. I know I did, I put it out of my mind for over 30 years. I hope to see and hear from the men I served with. See you guys. Lt (at the time) Stonerock
---
19) Eddie Boyles (Baby Face)
Btry C, Unit -1st Batt.,40th Artillery, Sec. 5
1967-1968
Red12341@msn.com

Hello all-I would like to hear from anyone in my old unit which was 8th of the 4th artillery from jul.67 to jan.68 or anyone that was in 1st of the 40th from jan. 68 to jul. 68. God Bless and will be glad to hear from you!
---
20) Eddie Boyles (Baby Face)
Btry C, Unit -1st Batt.,40th Artillery, Sec. 5 8/4 Arty
1967-1968
Red12341@msn.com


Hello all-I would like to hear from anyone in my old unit which was 8th of the 4th artillery from jul.67 to jan.68 or anyone that was in 1st of the 40th from jan. 68 to jul. 68. God Bless and will be glad to hear from you!
---
21) Kenneth Slaydon
Svc. Btry 8/4 Arty
1970-1971
slaydonkenny@yahoo.com
---
22) Albert R. Newman
8/4Arty. Mess SGT
Jan.1971 TO Nov.1971
onereece@sc.rr.com

I would love to contact any one there at that time
---
23) Steve Bogacki Steve's Pics


A&C Battery 8/4 Arty
Rockpile A Battery April69 to June69 and C2/A4 July 69 to April 70
sbogacki@home.com

I played the guitar when possible and sang "Whith a little help from my friends". I would like to hear from thoes who can rember.
---
24) Dwight (Wayne) Wells
A/ Battery/ 2nd/ 94th Gun # 2, 8/4
Jan 8-68 to July 18-68
wwells@safetee.net

I came to the 2/94 from the 8/4 B-Battery where I started at Ft. Sill.
---
25) Gary W. Overton, Sgt.E5, MOS: 36K40
HHB 2d Bn 94th - 8/4
7/67-7/68
GOver69291@aol.com
---
26) Cliff Hughes
HQ 8/4 FA
69-70
---
27) Squire Knowles
8th/4th 3/67-11/67 & 2nd/94th11/67-8/68
Headquarters Battery, Personnel Clerk
Oct 67 to Aug 68
skdesign@pacbell.net

Although Vietnam totally sucked BIGTIME, I remember a lot of great guys and lots of happy and humorous moments. The hard times were when we lost friends, though we were fortunate we lost only a few. See you in Branson, MO.
---
28) Ron Stillwachs
HHB, 8/4th & 1/40th, survey section
July 1967-Aug. 1968
polaris75@aol.com
I went over with the 8/4th in July '67, and later was transferred to the 1/40th. I would love to connect with Sgt. Clifford Foster. If anyone knows his whereabouts, please contact me. Like the movie says, we were soldiers.
---
29) Marvin Beamer
B btty 8/4
69-oct-70
mbeamer@stny.rr.com
commo section. radioteletypewriter operator. mostly kp and guard duty. have pictures to share. helped ammo section lug joes with pineapple and others
---
To Combined Arty Units I Corps Viet Nam
Posted after 5/5