201) DAVE KEISTER

2ND Bn 32OTH ARTY 105MM
JAN 70- MAR 71
DVLSK@AOL.COM
TRYING TO FIND ANYONE THAT WAS THERE EAGLE, BASTOGNE, BIRMINGHAM, ETC
---
202) Ward Britt - -"LIZARD"
Lima Bty, 4th Bn, 11th Marines, 1st Mar Div
11/69-11/70
wc_britt@msn.com

Hill 55, Ah Hua, Da Nang. Semper-Fi to all who served, even those not in artillery. Glad you all made it back. Will, thanks for this site. P.S. All of you fellow gun grunts need to get their hearing checked for "tinitus"-that noise inside your head.
---
203) David Mace

Btry B 1st Bn. 44th ADA
1971-1972
macedavid@hotmail.com
I was a Platoon leader with B Btry 1st Bn. 44th ADA Dusters. We supported several of your FA Bn.s in I Corps. The Bn. Hqs.of 1st.Bn. 39th Arty under LTC Walsh. was at Nancy south of Quang Tri but I spent most of my time on Carrol andC-1. If anyone knows how to get in touch with Col. Walsh, I would appreciate the information. I will say again that it was an honor to work with all the battalions we supported with our Dusters and Quads. It is always great to work with such profesionals. There are many soldiers alive today because of the (Big Iron) of the DMZ.
Just the other day, I was in a store and an old Arty vet saw my Duster T-shirt and thanked me for our Dusters and Quads. No thanks was necessary. Anyway, it was good to see your web page and thanks for letting me be part of it. Welcome home.
Thanks again, God's speed and welcome home.
---
204) Kenneth M. Noll (shorty)
F Btry 26th Arty
july 69-june70
kenol30@aol.com
would like to thank all the guys i served with and thank each and everyone of them for helping me get home in one peice. may god be with all the guys who were in nam.
---
205) Hammond DEAN,Jr
Whiskey Btry. 1st.Bn.12th.Mar.3rdMar.Div.
1967-1968
hammonddeanjr@comcast.net
Catching up with who I can find, after all these years.Semper Fidelis !!
---
206) William R Niles William's Pics 1 2 3

Svc 2/94 arty
68-69
Bcniles@aol.com
Have got picks on the site thanks and welcome home
---
207) DAN ROUSH

C btry 2/94th
7/70 / 8/71
kb9kcf@adelphia.net
hello to every one that made it back. I was in C btry 2/94th in 7/70-8/71. I was just wondering if any remembers me. i was on gun #3 called [ConFusioN] any one remembers Denny Vandorvort, Jim Vava, kenny, moe, mike short, an two guys from evansville IN, any body remembers. drop me some e-mail ok. i got some pics from then i need to scan in my pc. i realy love this site. brings back good an bad stuff. THANKS for this site. DAN
---
208) Ken Gerber

1/83, 8/4, 2/94 Svc.
1971
KG101nd@aol.com
Transfered from 8/4 to 2/94 Service 1971. Made Trip thru Hai Van Pass to Danang.
---
209) Zane Ray

HQ 2/94th Survey/FDC
June 66 - Aug 67
zaneray@ntplx.net
---
210) Phillip Jordan
B 2/319th 101st Airborne
Aug. 1968 to Aug 1969
jordan41299@mo-net.com

Looking for old buds.
Was at FSB Airborne May 13 1969. Was at FSB Berchestgaden June 14 1969
---
211) Andy Coates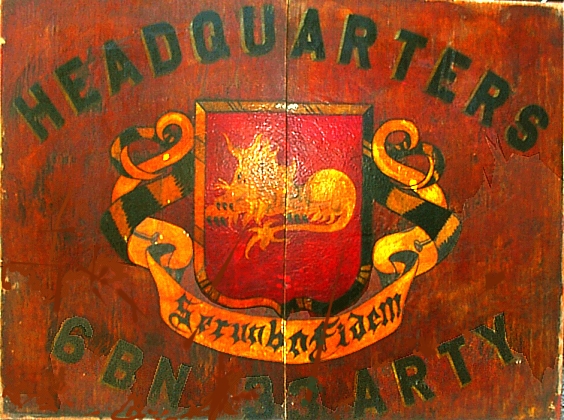 Andy's Pics
HHB 6-33 Arty
Feb. 69 - Feb. 70
I received the HHB 6-33 sign in the mail several months after I was home.
---
212) WAYNE PASQUARELLA
H-BATTERY 3-12 3RD MARINE DIV.
JUNE 0F 66 TO AUG 67
waynepasquarella@willebrothers.com

looking for guys from my outfit
---
213) Bruce Cheske

C Battery 2/94
Nov. 66 to Nov. 67
bcheske@eirthlink.net
At last, some info about a unit that didn't get the respect that we all deserve. Its nice to find all of you!!!
---
214) David E Sandeen

"C" Battery 2nd/94th Artillery
Aug 67- Feb 68
dsandeen@midwestintl.com
I arrived in country in mid Aug 67 and spent the first couple of weeks as an FO at Gio Linh. In Sept I relieved I believe Lt Tenis as XO of Charly Battery a position I held until leaving in mid Feb 68. 35 years later I can remember a lot of faces but have trouble with names. I really enjoy the 2/94 web site and hope to be able to attend the 2003 reunion. I have some super 8 videos that have been transferred to video that may be interesting. I remember quite vividly the trips to the Rockpile. Hope to hear from others that were there at the same time.
---
215) Walt Rogers
2nd/94th Artillery

walt.k.rogers@ssa.gov
I was in 2/94 from June or July of '66 until August of '67. We went by troop train to Oakland and boarded the Gen. LeRoy Eltinge. We stopped in Okinawa where we found out we were going to the DMZ instead of Saigon. I see a couple of messages posted mentioning Lt. DeVita. I remember him well--he was then an avid photographer. Walt Rogers
---
216) CSM Ken (Slim) Keogh,ret.
B BTRY 2/138 Gun 6, B BRTY 1/39 Gun 3
Jul 69/Jul 70
csmkeogh@msn.com

FSB Tomahawk, Quick I, Quick II, Phu Bia, FSB Bastonge, FSB Nancy, FSB Barbara. Still trying to find anyone during this time frame. Rolling Thunder in DC every year.
---
217) Andy Futa
108th arty gp hdqts/Dong Ha
mar 68 to mar 69
afuta@tampabay.rr.com

I was the chaplains asst that came out to your batteries for about 6 mo's, then after I got fired I was you mail man!!!
---
218) TOM BIRDSONG (BIRD)

B-2/138 B-1/39
7-'69----9-'69 9-'69----7-'70

birdsongt@msn.com
GET IN TOUCH
---
219) Mike Irwin (Surf)
HQ 4/12 and K/4/12 FDC
October 1965 to April 1967
irwinsails@aol.com

1964 MCRD San Diego w/Beaver Platoon (356)Oregon's State animal. Good name huh. Surfer wannabe w/Rick Redman out of Long Island. Glenn Steichen WA State. 1965 RVN w/Dick Shore, Florida, Sam McClelland New Orleans and Toot from Boston. Home April 1967 Any Brother out there?
---
220) 1Lt. Eugene Glesne

C Btry/2nd/94th Arty
8/69-7/70
Eglesne@pclient.ml.com
Great site. Will check weekly for new names.
---
More I Corps Arty Vets click
SIGN IN: click here click here
To Vets To Vets 21 - 40 To Vets 41 - 60 To Vets 61 - 80 To Vets 81 - 100
To Vets 101 - 120 To Vets 121 - 140 To Vets 141 -160 To Vets 161 - 180
To Vets 181 - 200 To Vets 221 - 240 To Vets 241 - 260
Vets 261 - 280 To Vets 281 - 300 To Vets 301 - 320 To Vets 321 - 340
To Vets 341 - 360 To Vets 361 - 380 To Vets 381 - 400